It's been a while since I've done an update or a podcast or a live show.  I've been enjoying some travel, hanging with the family, riding bikes, hiking, walking, reading, and listening. I've also been spending time studio time to work on new ideas, making field recordings,  as well as running some events for the 480+ member strong Rocky Mountain Synthesizer Meetup.
In the meantime, I noticed that a live video has surfaced of my duo A.I. Winter with Michael O'Bannon. It's the full video 27 minute of a live performance of "Instantiate" from Electro-Music NY 2014 festival on September 7th, 2014. A big thanks to Steve Mokris for recording and posting this!
"Instantiate" is an experimental ambient piece with four movements composed for two Octatracks."
Note – I also did double-duty on visuals with live camera input. The concept is as the A.I. is watching us, and as it evolves things become more clear to it (and we know how that will end). Watch embedded video.
"From the barren nanoscapes inside our personal devices come furtive anthems hummed by those digital servants who will one day be our overlords…".
Instantiate" is an en experimental ambient piece with four movements composed for two Octatracks.
Movement 1: Stasis – A still, slow moving "present time". Drones and melodies with an occasional perturbation to foreshadow what is coming.
Movement 2: Stirrings – Bursts of brief intelligence and control come and go. Perturbations of a minimal but ominous atmosphere. These are simple at first, but evolve toward short periods of chaos that quickly burn out.
Movement 3: Birth – The A.I. begins to build and grow recursively. Structures surface and are repeated and elaborated. While the programmer looks for signs of intelligence from the A.I., the the A.I. is rapidly learning by reviewing and attempting to emulate recordings of a child speaking.
Movement 4: Childhood – The A.I. recognizes its own existence. Consciousness leads to experimentation, gentle but awkward at first, with a growing edginess and over-sensitivity that suggests intrusiveness, lack of predictability and danger. The countdown to Super Artificial Intelligence has begun.
Buy the EP
We were really proud of this dark ambient piece so we made it available as a high-def EP  https://aiwinter.bandcamp.com/.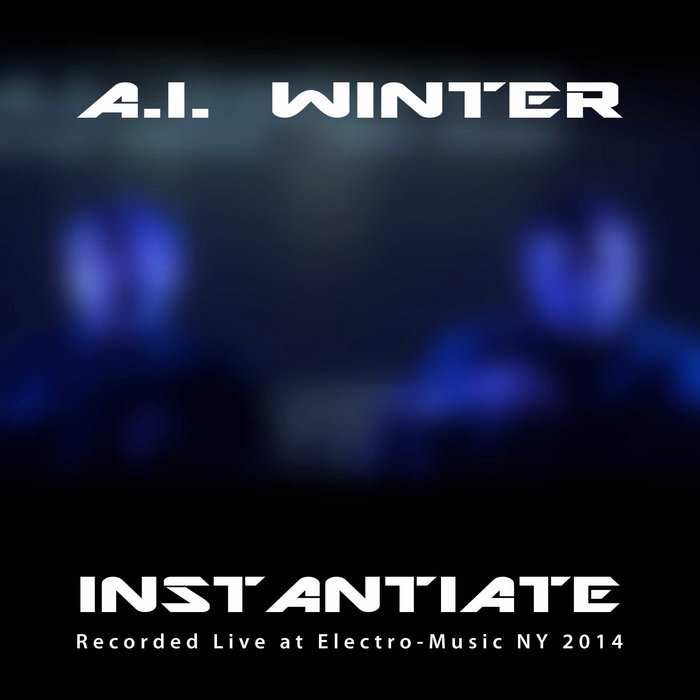 About A.I. Winter
A.I. Winter is a self-appointed harbinger of the progress of Artificial Intelligence toward world domination. It imposes its musical interpretations of cosmic machine consciousness on the world at large.
Michael O'Bannon (Atlanta, GA) and Mark Mosher (Boulder, CO) first met at Electro-Music 2010. Throughout the years they've collaborated loosely with Mark on the music side and Michael on visuals. For the first time, Michael and Mark will be joining forces as a musical duo to offer the soundtrack of a cautionary tale considering the risks of super-human artificial intelligence. Michael is a psychologist who explores sound design, the interplay of visual and sound stimuli in performance, and multimedia programming with Max6. Mark, who's been going deep with Octatrack and Absynth, will be exploring sonic expression via dynamic sampling, real-time morphing and complex granular manipulations.
For more information visit my project page on this collaboration.